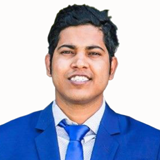 Juwel Rana, MPH (Dual)
Founder & Director
Mr. Juwel Rana has pursued a dual Master of Public Health (MPH) degree in European Master of Public Health (EMPH) from the University of Sheffield, the UK, and EMPH in Environmental and Occupational Health Sciences from the EHESP School of Public Health, France, under the prestigious Erasmus Mundus Scholarship. He also completed an MSS and BSS in Sociology from the University of Dhaka, Bangladesh. Before joining the Department of Public Health at North South University, Mr. Juwel worked as Research Scholar at the Department of Biostatistics and Epidemiology at the University of Massachusetts (UMASS) Amherst, USA.
Mr. Juwel Rana's major scientific interests are to develop or improve epidemiologic methods related to risk prediction, repeated measures, multivariate analysis, causal mediation analysis, causal inference, mixture analysis, simulation study, big data, and application of machine learning approaches. He applies these techniques in perinatal epidemiology (early childhood development, developmental delays, and disorders, child mortality), maternal & reproductive health, non-communicable diseases, and environmental epidemiology.
He published more than 23 research papers in peer-reviewed journals such as The Lancet, The Lancet Public Health, Neuroepidemiology, Alzheimers & Dementia, Scientific Reports, International Journal of Environmental Research, Exposure and Health, Reproductive Health, BMC Medicine, Frontiers in Medicine, and Journal of the American College of Cardiology. He serves as the managing editor of South Asian Journal of Social Sciences (SAJSS), regional editor of Global Dialogue, member of reviewer board in respective journals of the field, including International Journal of Environmental Research, Scientific Reports, BMJ Environmental & Occupational Medicine, Public Health Nutrition, Brain and Behavior, and PLOS One. He is an active member of different professional networks such as The Society for Epidemiologic Research and the International Society for Environmental Epidemiology.
PubMed ORCiD Google Scholar ResearchGate

Recent Publications

Rana
J
,
Luna-Gutiérrez
P
,
Haque
SE
, et al.
Associations between household air pollution and early child development among children aged 36–59 months in Bangladesh.
J Epidemiol Community Health
(2022)
.
http://dx.doi.org/10.1136/jech-2021-217554
Rana J
, Renzetti S, Islam R,
et al.
Mediation Effect of Metal Mixtures in the Association Between Socioeconomic Status and Self-rated Health Among US Adults: A Weighted Quantile Sum Mediation Approach.
Exposure and Health
(2021).
https://doi.org/10.1007/s12403-021-00439-z
Rana J
, Islam RM, Khan MN,
et al.
Association between household air pollution and child mortality in Myanmar using a multilevel mixed-effects Poisson regression with robust variance.
Scientific Report
11, 12983 (2021).
https://doi.org/10.1038/s41598-021-92193-0